You know about our "special thing" at Erlachplatz? In order preserve drinking water, a rainwater harvesting system has been put into operation. The collected rainwater will be recycled and hygienically processed in a 50,000 litre cistern and put to use for toilets, washing machines and watering the garden.
There is more: over the summer months we've been renovating, in- and outside. The alley-floors and kitchen units are new, the wooden floors in the rooms are newly sanded and varnished.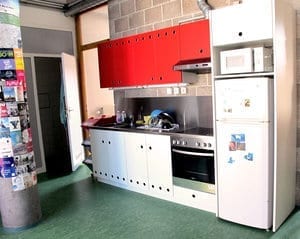 The home4students Erlachplatz is something very special: we have open living units with loft-feeling.
And when you say "loft" there is always a piece of art (made by our residents) somewhere. We love it!