Innsbruck, also known as the Jewel of the Alps is a small, colorful city surrounded by mountains in the Tyrol region. Even though the city can look small on a map, you will never get bored here! There are plenty of things to see, to do and discover every day. Starting from the downtown area that is less than 10 minutes' walk from the
dorm Höttinger Au
, the
Golden Roof is a must see
for visitors, after that, have a walk in the
Maria-Theresien-Straße
until the Triumphforte, visit the St. James Cathedral (for free), go to the Hofburg Imperial Palace (price for students is around 6,50€) and the Imperial Gardens for a nice chill walk (for free). And don't forget to climb the
City Tower
(price: around 4€) and enjoy the view. Remember to
walk by the magical Inn river
with the stunning mountain view all around.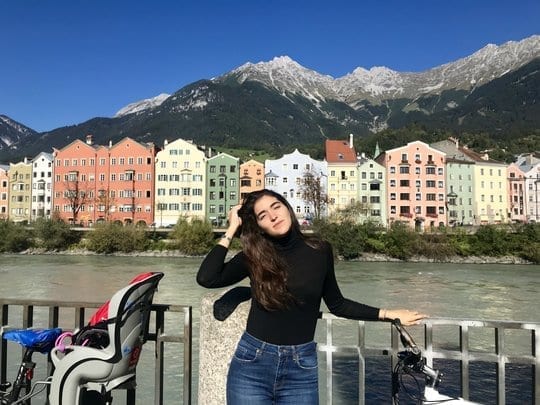 If you get hungry and you want to get some Austrian food,
Fisherhäusl
is the right place for you. For something sweet, go to the Strudel Café or Café Sacher Innsbruck. But if Austrian food is not what you feel like, you would be happy to have nice Italian food at
Due Sicilie
, or a burrito at
Machete
.
Christmas in Innsbruck
starts already in middle of November. Christkindlmarkt (5 minutes' walk from the dorm), and Christkindlmarkt am Goldenen Dachl (10 minutes' walk) are the two main Christmas Markets in the city, and the first ones to open. In December there are more markets opening on the way to Norketten and in Maria-Theresien-St.
Don't forget to take a Glühwein (hot wine)
, eat some Austrian Christmas specialties and buy some gifts for your family back home.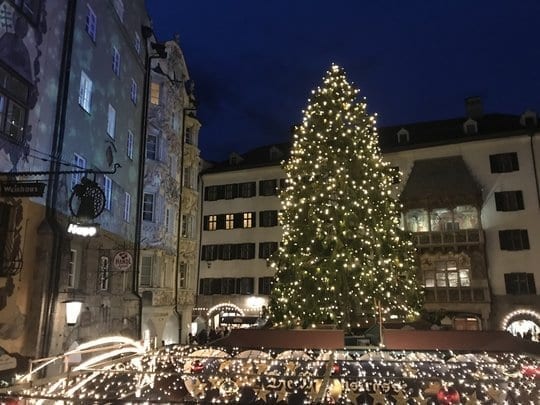 If you want some
fresh air and escape from the city
, the best option is to take the
cable car,
that leaves from the Congress (15 minutes' walk), taking you up to 2256 meters in less than 30minutes (price: 30€, but for free if you have the Freizeitticket).
Nordkettenbahnen
first stop is at 1905 meters with a nice viewpoint and restaurant (I would really recommend Käsespätzle or a soup with dumplings: Tiroler Knödel). There is a
panoramic deck
where you can enjoy on of the
best views of Innsbruck
, and you can enjoy hiking, skiing, or mountain biking. Just outside Innsbruck you will find plenty of options to go hike, ski or mountainbike too.
It's impossible to get bored here.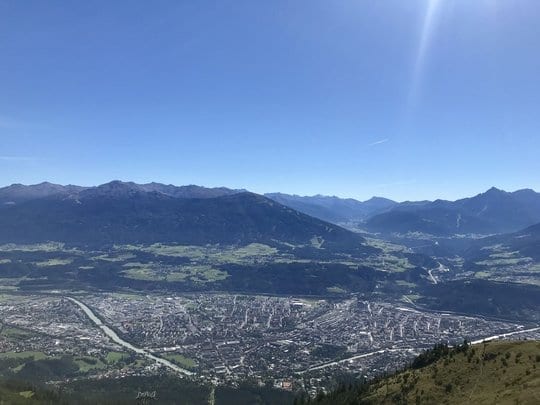 If the weather is not good or if you are not a sporty person, you should definitely
go to
Swarovski Kristallwelten
(you can go there with a shuttle from the train station of Innsbruck – 15 minutes walking from the dorm, and it's just a 25 minutes trip), to visit the Swarovski's world, the park and for some jewelry shopping. In the surrounding, you should also go and visit the
Schloss Ambras
, the Renaissance castle in the hills above Innsbruck (bus stop in front of the dorm), or go visit
Bergisel Ski Jump
, 47-meter-high ski jump, and take a coffee and enjoy the view from the bar up there.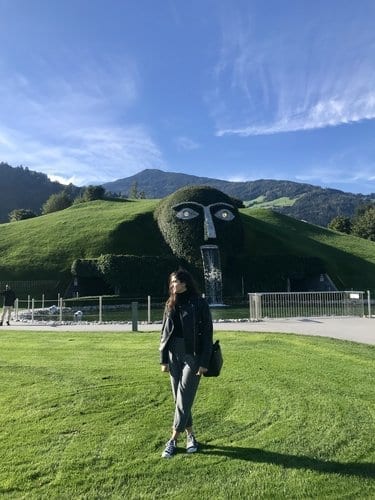 I hope you will enjoy Innsbruck as much as I am enjoying it right now!
Cheers, your home4students Ambassador Sara