1. Donauinsel (station U1 Donauinsel)
I think Donauinsel (an island at the New Danube) is the favourite place of many people in Vienna. For a good reason: you can do so much there! If you like to take a walk, go jogging, swimming, ride the bike, roller-skating, drinking, eating, to go by boat or dancing – you can do everything at Donauinsel, it never gets boring here.
If you leave the underground line U1 Donauinsel, go straight through the exit upstairs – don't go down the stairs! By that you will have a great view over the New Danube. Down on the left side (where the white light house is situated) you can find the Sunken City. It's a small and cosy area with nice bars where you can enjoy good cocktails and dance in the evening to latin music. I can recommend the dance-bars Sansibar and Rumba & Mambo ;) On the right side you will find the Copa Beach, an area for bathing in summer with a trampoline.
At night, this area is lit in many colours, which is beautiful. There you can also rent bikes and roller skates! On the other side of the underground line you can even see until the tower of the Vienna airport.
2. Kahlenberg, Leopoldsberg und Cobenzl (bus 38A)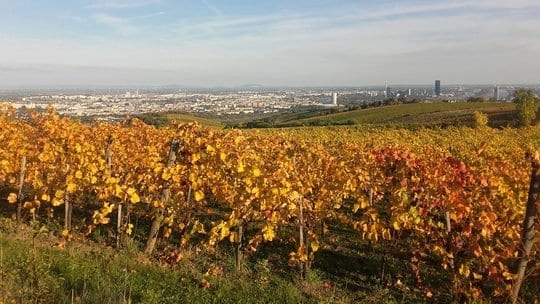 To be honest: These three mountains are more hills than mountains, but nevertheless you have will have a beautiful view over Vienna.
They lie next to each other and are a part of Wienerwald (a big area with forest). I do have a top tip: Explore the hills in autumn. You will be stunned by the yellow leaves of the vineyards. Also visit the typical Austrian Heurigen, there you can enjoy cool drinks and snacks. These hills are the hotspots of Vienna at Sylvester. If you are searching for adventure, you are right at the climbing high rope course at Kahlenberg.
To get there, take the tram 38 from Spitalgasse (just a few minutes away from home4students Sensengasse) and leave at the last station Wien Grinzing. From there, bus 38A (direction Leopoldsberg) will bring you on all of the three hills.
Cheers, Steffi