You are young, adventurous, and you want to see the world? Why not start with Austria. Studying in Austria has many perks: the people are nice, the culture is rich, the nature is amazing and do not get me started on Austrian cuisine. There are so many places to discover, and the self-development everyone is talking about when mentioning a stay abroad is not a joke. Independence, new friendships and a couple of adventurous months are ahead of you.
What is holding you back? Pack your bags – Austria and our dormitories are already waiting for you.
---
Things you should know before you study in Austria
Austria is most likely different to your home country in some or many aspects. But don't worry – many differences will probably be challenging from time to time, but you will also learn a lot. Not only about the education system in Austria, but also about the culture, the food, the customs, and traditions.
Important to know about Austrian universities
The quality of education in Austria is very good and mostly free. There are many universities and students can benefit from various bonuses. For example, tuition fees are free for many European citizens, and you can always get a student job if you need more cash. There are many ways how to finance your studies during your stay in Austria. Applying for a scholarship is just one of them.
Discover Austria and its surrounding countries when studying abroad
You might already know that Austria is not the biggest country in the world. However, there is still a lot to discover because it is located in the heart of Europe, which means you can easily travel to surrounding countries as well. And let's be honest, travelling is probably the most important aspect of studying abroad. You will not be disappointed since Austria has a great variation of landscapes to offer and travelling to one of the eight boarder countries (Germany, Czech Republic, Slovenia, Slovakia, Hungary, Italy, Switzerland, and Liechtenstein) is relatively cheap and the drive or flight is very short.
High standard of living
The standard of living is very high and living costs vary from city to city. If you consider living in Austria, it will also depend on the country you are coming from if you consider living costs in Austria expensive or cheap.
Making friends is easy
It is easy to make new friends in Austria because there are many international students and Austrians are friendly (at least the majority 😉). It is even easier to make friends if you consider living in a dorm in Vienna, Klagenfurt, Innsbruck, Graz or Salzburg. Many students take the opportunity and live in dorms because you also do not have to buy your own furniture for your limited stay, which is very beneficial. Furthermore, the dorms are reasonably priced and close to city centres. Therefore, dorms probably offer the best of both worlds: cheap living costs and making friends easily.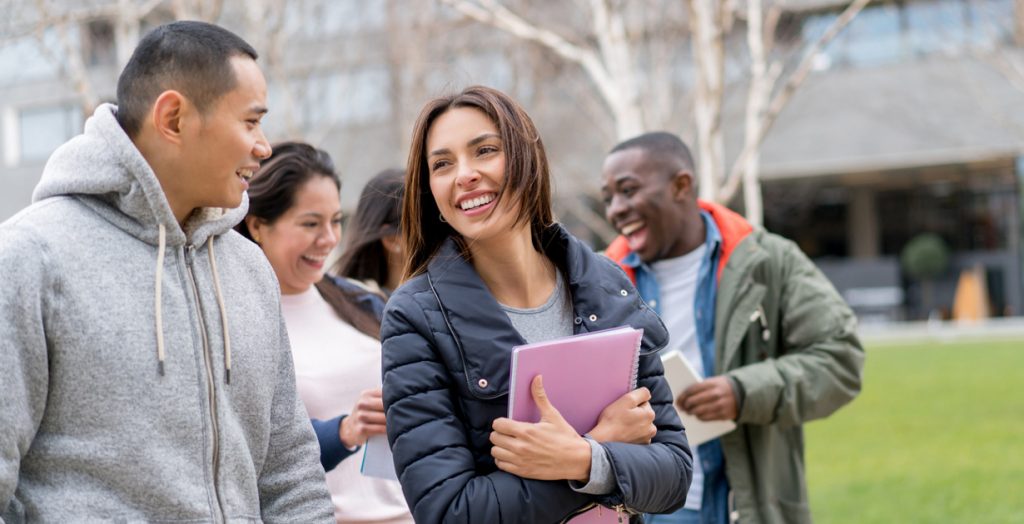 What you need to know before studying abroad
Mostly you have to be open to new people, places, and opportunities, but there are still some points you can prepare before coming to Austria.
Be prepared for temperature extremes
It can be super hot in summer, but also freezing cold in winter. This also means that you can do fun snow activities like skiing, snowboarding, or tobogganing in winter, but you can also get tan lines on one of the beautiful lakes in summer. It is important to pack according to the weather. Big cosy sweaters for winter and shorts and tops for summer – if you still need some more clothes: don't worry – we have shopping centres as well 😉
Learn the language
German is probably not the hardest language to learn in comparison to Mandarin, Arabic or Japanese, but it can be pretty intense due to complicated grammar structures. Learn a little bit of German before studying abroad in Austria and use the opportunity to acquire more German language skills during your stay. German is an important language, and you can impress many smart heads with these language skills. You can still study in Austria even if you are not that good at German, because many classes are taught in English and most students and professors are fluent in English as well.
Start saving as soon as possible
How to finance your studies in Austria is one of the most important questions when studying abroad, because a couple of months abroad are all about enjoying life, becoming more independent, getting to know new places, and making new bonds and friendships. You will most likely not be happy if you have to live on a budget and say no to travels, fun activities, or good food. Therefore, save as many banknotes as possible, and you will be able to live your life to the fullest during your time abroad.
Keep an eye on important dates
Your domestic university probably has admission dates, so do universities in Austria if you want to study there. Also inform yourself about requirements for the university you want to attend and what kind of visa you need to get for your trip to Austria. If you apply for a visa you need to make an appointment at the embassy, hand in certain documents and wait until they have everything ready. I highly advise being prepared and knowing your time frame plus important dates.
Try the Austrian cuisine during your stay
The way through someone's heart goes through their stomach. If you truly want to fall in love with Austria, you have to try our specialities. There are so many delicious meals, pastries, and desserts which you cannot let slip through your fingers. Ever heard of Schnitzel, Apfelstrudel, Kaiserschmarrn and co.? If not, it is time to expand your horizons. You will have some catching up to do while you study in Austria.
Document your time abroad
There is nothing more upsetting than spending a certain amount of time abroad and not having any memories once you are back home. It does not matter how you document your study time abroad in Austria. You can take tons of pictures, journal, collect boarding passes and tickets of sights and so on. Once you are looking back at this adventure a couple of years later, you will be glad that you documented everything, and it will bring back so many memories and feelings as well.
Remember: You will be ok
I have been abroad as well and I know the struggle, the homesickness, and the roller coaster of emotions. All of that is totally normal, and you are probably experiencing a culture shock at some point. Important to remember is that all of this is part of that amazing journey, and you just have to keep calm. Bad days are just as much part of the journey as good days, but the good ones will be predominant in the end – I promise. 😊
Are you ready to study in Austria?
If you are still unsure, or you might like some help in your first couple of weeks in Austria, you can apply to the buddy program of your university, which most of them offer. You will find this either on the university website or on the website of the program you are attending. You will be assigned to at least one local student who can help you find your way around. They can pick you up from the airport or the local train station, show you to your dorm or apartment, help with finding the university buildings, and they will probably be your first friend as well. Most of the time, you can already get in touch with them while you are still in your home country. You can ask questions beforehand about what to bring or about cultural and social differences to your country. This program is very handy and beneficial for everyone studying abroad in Austria.
Ready for the great outdoors, the rich cuisine, and lots and lots of Schnitzel and Kaiserschmarrn? Here are some websites that may be beneficial for your time in Austria and for your preparation time abroad.
Last but not least: Be open-minded and enjoy the journey. 😉