Meet "my" home4students Glockengasse
In the first episode, I will give you a general overview of the accommodation, highlighting the key features that made me fall in love with the dormitory.
Location
home4students Glockengasse is situated right at the end of the main street, Linzer Gasse. I can visit the birthplace of Mozart or explore the city centre, it's only a stone's throw away. If you struggle to get up, then have no fear! It's only a 10-minute walk to the (my) Law Faculty, so I can get to my classes on time without having to sacrifice my sleep.
Design
From the images you see that the structure is simple, but modern, giving me a futuristic feel. The first time I saw it, I thought it looked like a spacecraft ;)
Facilities
The building is packed with amazing facilities (entrance hall, small library, vending machines, shared spaces) to help you to get the most out of your stay. I simply love it. Whether you have an ear for music or just want to keep in shape, home4students Glockengasse is equipped with a music room and a small gym. There is also a laundry room.
Along with the large and brightly colored rooms, each floor features two kitchens creating a great environment for me to hang out with my friends while we preparing our meals. You might even get to see men climbing the rocks on the Kapuzinemberg while cooking.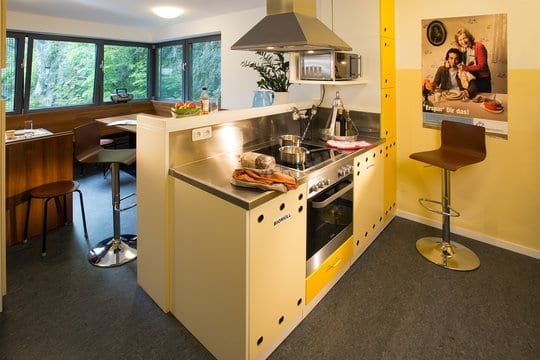 Last but not least, the common room on the top floor is my favourite place. Everyday I can find students battling it out over a game of Ping-Pong or catching up on the latest films on TV on the sofa. Not only does this incredible rooftop terrace have a football table too, but it also offers exceptional views of Salzburg.
Get ready to create unforgettable memories with lifelong friends during your stay at home4students Glockengasse.