Still looking for a cool summer place to stay in Austria?

Then get yourself a place in one of our student dormitories all across Austria in Klagenfurt, Innsbruck, Graz or Vienna. Because with us you can really enjoy your summer. Internship, university or just a relaxing city trip? No matter what, we welcome everyone 🧡💛💚💙💜🤍!
Normally, we rent out our dormitories by the month during the summer months (i.e. for 4 weeks or longer), but shorter stays in our dormitories are also possible on request. You can register HERE.
We recommend the following cities if you are looking for cheap, modern and, above all, cozy accommodations:
Klagenfurt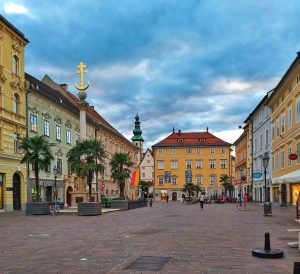 An amazing town center, a unique lake and a lot of culture: No matter if it's your studies or the beloved Wörthersee, which brings you to Klagenfurt. Our student residences in Klagenfurt, such as the Nautilusweg Haus B, are your place to be for your dream summer in Kärnten.
Innsbruck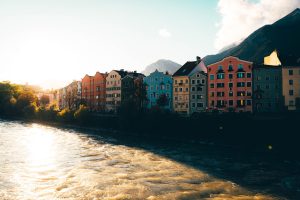 Innsbruck is without doubt one of the most fascinating cities in Central Europe. An impressive mountain landscape in the immediate surroundings, a beautiful old town, charming flair and countless leisure opportunities for young people make Innsbruck a universally popular city. It is no surprise that so many don't want to miss out on our student dormitories in Innsbruck! Our dormitory in the Technikerstraße is a great place to stay to really experience the flair of the city.
Graz
Who can resist the charm of Graz? Well, we can' t. Not only because of the countless universities, the city is home to the largest number of students in Austria – after Vienna. It's also the lively atmosphere and the many bars and cafes that constantly attract young people to the Styrian capital and make the city a great summer destination. Our student residences in Graz provide the perfect place to stay. Our dorms in Leechgasse and Neutorgasse score points not only for their modern facilities but also for their excellent locations.
Wien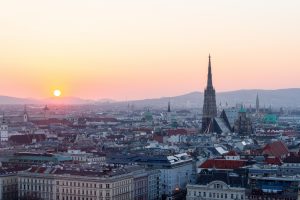 Vienna is different. Also in summer, because the colorful capital offers so many things to do. Enjoy theater, cinema and music or simply relax in the sun between greenery, sand and water – what more could you want? Our student residences in Vienna are available for you at a total of 11 locations across the city. Would you like a summer residence in the city center? Or would you prefer a place on the other bank of the Danube? Vienna has a place for every taste.
For more detailed information about our summer places, please send us a message. We look forward to seeing you!
Image sources: unsplash