True to the motto "good food, good mood", it is not only important to eat well to make us comfortable in our own bodies but also to boost our brain power. Much like thorough exam preparation, healthy food is crucial especially while studying. A balanced diet might even be the game changer you were looking for.
But which foods have a positive effect on our brain power? We've got you covered and summarized the answer to this question and some more useful info on brainfood for you!
What even is brainfood?
As the name suggests, brainfoods are foods, which are in some way good for our brains. They promote our mental capacity and supply our brains with essential nutrients, which we especially need during high performance phases like exam seasons.
Three important and major components of our diets are carbohydrates, fat and protein. Carbohydrates provide our brains with sugar and sugar equals energy for our bodies. Try to incorporate complex carbohydrates into your diet, such as wholemeal bread, oats or potatoes, to ensure long-lasting energy. Protein, which can be sourced from plant-based or animal products, plays an important part in our memory and the flow of information. Besides healthy fats like omega-3 fatty acids, minerals, vitamins, and fibre also support our mental capacity and help to keep our brains fit.
5 brainfoods for studying
Eat smart and be smart with these brainfoods:
sweet potatoes – high in minerals and vitamins
nuts – healthy fats, protein, vitamins, minerals, fibre
oats – fibre, minerals
eggs – protein, vitamins, folic acid
fish – healthy fats, protein
5 anti-brainfoods you should avoid
Are you frequently having trouble concentrating? Your diet might be to blame, more specifically "anti"-brainfoods, which might have a negative effect on your brain power – or even your grades and mood. The wrong carbohydrates in your food make you tired and hinder your concentration. But – of course – you can enjoy anti-brainfoods from time to time. Just keep in mind: balance is key.
Anti-brainfood snacks and meals include:
fast food (burgers, fried chicken and the like)
diet and light editions of products (oftentimes full of additives)
convenience food and ready meals (highly processed, high in salt and fat)
lemonade and energy drinks (high in sugar)
white flour products (fast source of carbohydrates, which will only keep your energy up for a short period of time)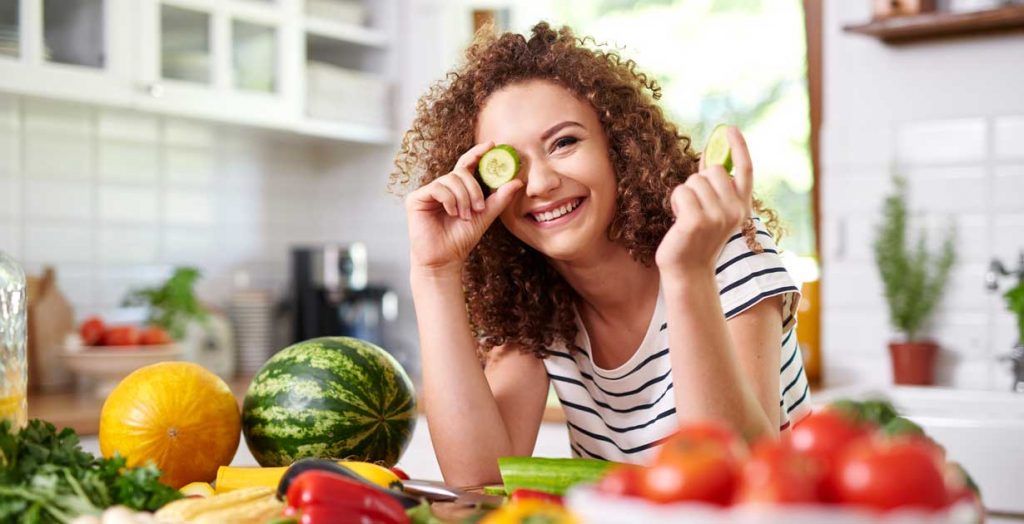 Yummy brainfood recipes
During exam season there is often little time for cooking and students love quick meals. But sometimes we simply lack creative ideas – and let's be honest, an alternative to the standard pasta with sauce would be great (even though there simply cannot be enough pasta recipes in this world 😉).
And as a sidenote: convenient kitchens are a must in our student dormitories in Austria . Pick the right option for you, ranging from your own small kitchen to shared cooking spaces, and have fun preparing your quick and easy brainfood recipes for studying.
Still not quite convinced of brainfood? No problem, with the following recipes you can quickly prepare healthy and delicious meals and give brainfood a go.
---
A sweet start to your day with overnight oats
Overnight oats are a true classic when it comes to breakfast. Prepared the night before, looking delicious (and instagrammable) and simply finger-licking good – the yummy breakfast porridge is a real hit. You can also buy all ingredients in bulk, which makes this recipe ideal for anyone who is cooking on a budget. And – on top of all that – oats and various toppings make this dish the perfect brainfood snack for studying and busy everyday life.
Ingredients:
oats
milk or milk alternatives
toppings of your choice (nuts, seeds, fruit, coconut flakes, honey)
spices of your choice (cinnamon, vanilla)
Preparation:
Put one portion of rolled oats in a sealable container.
Add spices of your choice.
Pour double the amount of milk or milk alternative over the oats.
Close the container and put the oats in the fridge overnight.
In the morning, add fresh fruit, nuts or other toppings of your choice and enjoy.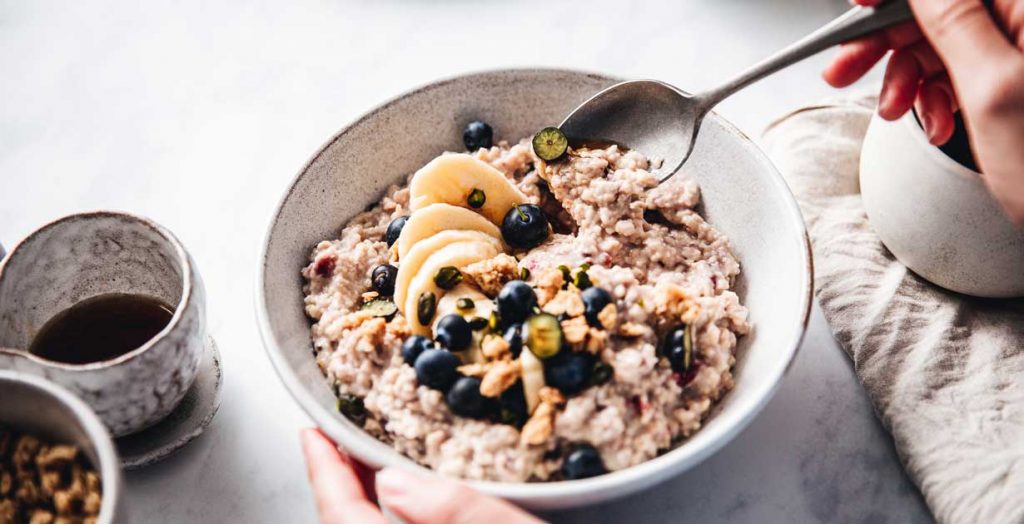 SoFISHticated: salmon with Mediterranean vegetables and feta
This easy oven dish is not only a delicious brainfood recipe but also a real timesaver – while everything is roasting in the oven, you can continue studying for your next exam.
Ingredients:
salmon filet
zucchini
cherry tomatoes
button mushrooms
clove of garlic
onion
olive oil
feta
salt, pepper, paprika powder
Preparation:
Preheat your oven to 180 °C and put a piece of parchment paper on your baking sheet.
Cut your veggies and feta in to small, equal-sized pieces, mince your garlic and cut the onion into slices.
Marinate your salmon filet with one tablespoon of olive oil, salt, pepper, paprika powder and the minced garlic and put it on the baking sheet on top of your veggies.
Cook in the oven for 30 minutes and enjoy.
Hacks for brainfood snacks – ideal for studying!
If you're tired of craving unhealthy snacks but still need a little pick-me-up while studying, these snacking tips and brainfood snacks are a great healthy alternative to a bag of chips or a bar of chocolate.
drinking enough water (staying hydrated is important for keeping your organs healthy and can help you to curb cravings)
nuts as a snack (cashews, walnuts, peanuts, hazelnuts and more)
smoothies for in-between meals (throw some fruit and veggies into a blender, add milk or a milk alternative and your smoothie is ready)
healthy homemade chips (sweet potatoes, chickpeas or bananas, prepared in an air fryer or the oven)
You should also try to avoid wolfing down your meals and being distracted while eating. You might miss your body's hunger cues and not notice that you're already full. The result: you eat more than your body needs and the famous food coma kicks in – which is not exactly helping with study motivation. Rather take a real break and be present while enjoying your brainfood.
Have fun testing out these brainfood recipes and take your upcoming study sessions to the next level!
---